Dapper Horse is a boutique equestrian website specializing in curating products of the highest quality that reflect the core values of Dapper Horse – to champion the horse and rider's experience by offering them products that focus on beauty, comfort, and quality.  Their target audience is aspirational; therefore, the aesthetics and an easy buying experience were the priority.  We did the branding, design, development and marketing for Dapper Horse.
OUR APPROACH
Crafting an Aspirational Shopping Experience
Work with Us
Dapper Horse needed an eCommerce website that looked as beautiful as the products they sell while providing the user with a first-class buying experience optimized for conversions. We started with branding and crafting the right voice. We then focused on designing a website that reinforced the brand with a strong focus on conversions.  We immediately executed a targeted digital marketing campaign that got results!
SERVICES PROVIDED:
Web Strategy Consulting

Branding  & Content

Website Design  

Built Shopify Website
Marketing Strategy

Social Media Marketing
Search Engine Marketing
Email Marketing
DESIGN
Branding for eCommerce Success
Focus on Conversion Optimization
eCommerce websites live and die by their conversation rates!  We were obsessed with "how will this design choice affect conversions?"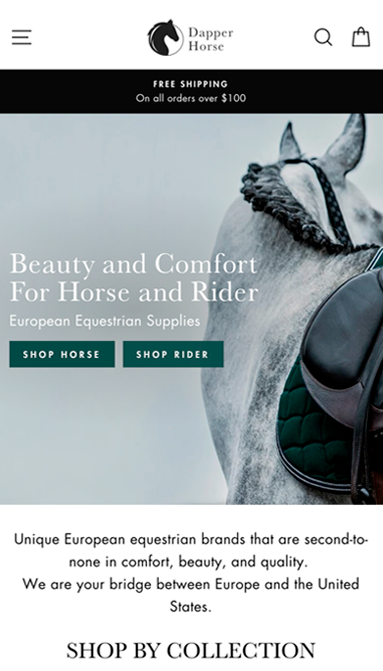 Dapper Horse's success was the result of great products, effective branding, and a website obsessed with conversions.   We implemented a multi-channel marketing campaign to announce the launch, showcase the premier brands and drive targeted traffic to the website.  We also implemented several customer retention campaigns using retargeting, emails, and SMS marketing. The results – despite launching in the middle of a pandemic with equestrian shows being canceled, the marketing campaigns generated over $1,500,000 in sales in the first year!
$1,500,000
First Year Sales
40% %
RETURN CUSTOMER RATE